FEATURES
MasterAPS is a secure application processing system (APS) that is fully-customizable to your data and team needs. With advanced data management, easy reporting and extensive connectivity, loan processing has never been easier.
Make your credit process smarter
MasterAPS is a loan application processing system (APS) that makes lending cycles fully-automated. The intuitive interface also makes the credit process easier for every user — from front office staff to senior management.
Result: Improved time-to-yes and time-to-cash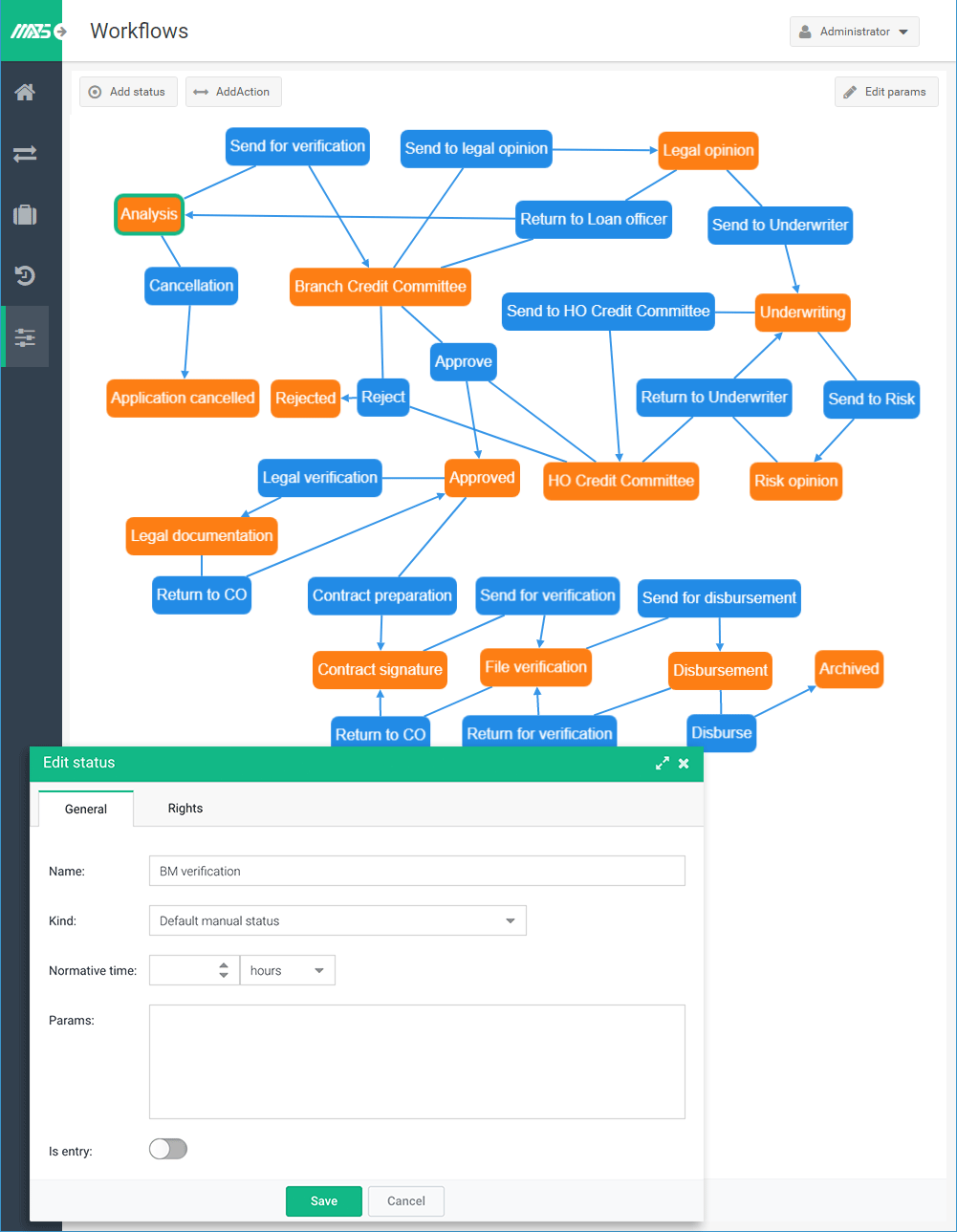 Request Demo
Fill-in the form below to schedule your demo with one of our experts.
MasterAPS — Loan Application Processing System
Product Tour
Reshape loan processing with MasterAPS
What we show; we deliver
Request a live demo to see MasterAPS in action
Trusted by
What Our Clients Say
BFC's APS, with its variety of built-in and customized reports, provides us effective control over sales force results and efficiency, operational activities, and decision-making statistics. Moreover, we are now in a position to collect and store all financial and non-financial data for a challenging client group. A huge and valuable database was already collected within one year of using BFC's APS.
Banca Intesa a.d. Beograd (Serbia)
[September 2018]
Maja Andonov
Head of Small Business Client Department
With BFC's APS we have optimized our decision-making process, reshaping it and easily moving from a fully centralized model to semi-centralized. After implementing BFC's APS within our standard decision-making process, we managed to reduce processing time by 30%. With partial decentralization of the process through BFC's APS we expect to reduce it by 50%.
Banca Intesa a.d. Beograd (Serbia)
[September 2018]
Djordje Radulović
Head of Agriculture Sales Management Office
Success Story:
Learn how a leading Serbian bank more than halved loan processing and approval times thanks to BFC's MasterAPS loan origination system.
Read more...
Schedule a demo with one of our experts
FAQ
Frequently Asked Questions
Can MasterAPS be used as a core banking system?

MasterAPS is a separate module used for efficient credit cycle management. It could be easily connected to any core banking system.
Is it possible to manage document workflow by transferring and saving files in this software?

Yes, MasterAPS features transferring and saving of any type of file.
Can a loan agreement be automatically generated in MasterAPS?

Yes, the system is capable of generating adjustable printable forms (e.g. loan applications or loan agreements).
Does MasterAPS have any built-in reports?

MasterAPS has built-in reporting tools based on the Online Analytical Processing (OLAP) engine, which allows for fully-customized reports.
Does MasterAPS have any tools to evaluate the creditworthiness of borrowers?

Yes, MasterAPS has a built-in configurable credit evaluation form that allows financial institutions to perform financial analyses of borrowers.
Can MasterAPS be used on mobile devices such as smartphones, tablets etc.?

Yes, MasterAPS can be used from any mobile device supporting a browser (subject to internet connectivity). Android and iOS apps capable of working offline are coming soon.
What is the maximum number of users allowed under a standard MasterAPS license?

The number of users and business roles is unlimited.
Is there a maximum application flow or loan portfolio size that MasterAPS is capable of supporting?

There are no such limitations.
How many loan products and different workflows is MasterAPS capable of handling?

There is no limit to the number of loan products and workflows.
Is it possible to connect MasterAPS with external data sources (e.g. a credit information bureau or core banking system)?

MasterAPS is capable of online connections with a credit bureau, a core banking system or any other database with available APIs.
Does MasterAPS have a specialized client interface that allows customers to apply for a loan online?

MasterAPS features roles for all bank employees who are engaged in the credit process. A separate module for clients can be developed upon request.
How is MasterAPS accessed?

The system can be made available as a secured SAAS service (i.e. the client doesn't need a server). Alternatively, software can be installed on the central server of the financial institution. In either case, users access and use the system via a web browser.
How long does it take to customize and install MasterAPS?

It depends on the complexity of the custom settings and the specific requirements to integrate MasterAPS with other software and external databases. Typically, the implementation process lasts 2–6 months.
If we purchase MasterAPS and later need to modify or add new loan products, roles or users, how quickly can these changes be made?

BFC transfers all necessary documentation and trains your system administrators to easily make such adjustments to MasterAPS. Alternatively, BFC can provide the relevant support based on a separate maintenance agreement, if desired.
MasterAPS is not available in a language we need. Can MasterAPS be customized to any other languages?

Yes, MasterAPS can be easily customized to any language within a very short period of time.
What support services are included with a MasterAPS purchase?

Unlimited bug fixing and maintenance is free of charge for the first 6 months after system implementation. Following this period, it is recommended that clients subscribe to a maintenance service.
What type of maintenance service contracts are available?

Yearly service packages including unlimited maintenance and bug fixing as well as a fixed number of development days dedicated to the development of requested customizations. Alternatively, a pay as you go service is also available under which charges are based on expert time spent completing the requested actions.
What guarantees are given on quality of support services?

BFC guarantees a response to all reported key issues with the system within 1 working day.
Still have questions?
Feel free to ask any other question you may have; one of our experts will respond to your questions directly.
Packages
Features for every financial institution

Route your incoming loan applications
Set your workflow and organizational structure
Manage your credit products and clients
Receive alerts and notifications
Design and manage forms
Exchange and store documents
Analyze performance with configurable operational reports

Includes all Standard Features
Evaluate your borrowers
Communicate via chat
Analyze every detail of your business with powerful operational and financial reporting engine
Access on Android and iOS
3 months free premium support
Contact us for a tailored quote
We'd love to learn more about your needs for a great MasterAPS experience.
Complete the short form and a MasterAPS expert will contact you directly to answer all your questions.
Learn more about MasterAPS
We would be happy to show you all the features of MasterAPS in a live demonstration, answer any questions you may have and/or consider any proposal for collaboration.
Simply fill out this short form and an expert will be in contact shortly.